What You Can Expect
Dr. Zoumalan is a board-certified Oculoplastic surgeon that specializes in eyelid surgery. At his Beverly Hills practice, he often treats out of town patients. Dr. Zoumalan pays particular attention to ethnic variations of the face and eyelids, and maintains a perspective of individualizing each patient to deliver results that are natural and pleasing. As a result, Dr. Zoumalan and his staff routinely see patients from all areas of the country and world including Australia, Dubai, Asia (China, Korea, Japan, Singapore), Canada, Europe, India, Qatar, and Brazil.
Under Dr. Zoumalan's care, patients can comfortably schedule surgery and plan their return home in a predictable manner. Our office arranges for hotel accommodations and nursing care as needed when visiting patients schedule surgery; our goal is to make the experience as easy and comfortable as possible.
Our office strives to make the consultation process as easy as possible for our potential patients. Our staff can arrange for you to virtually meet with the doctor on Skype prior to coming in for your examination.
Please read the steps below to being the consultation process and do not hesitate to contact us with any questions or concerns.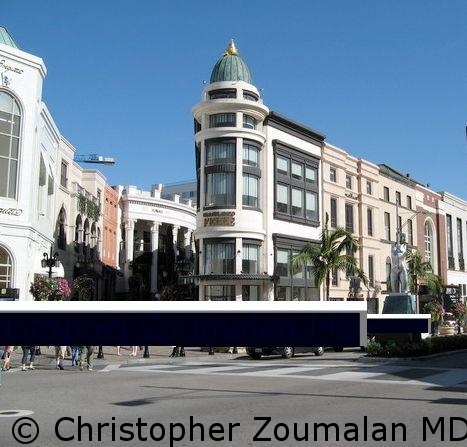 Step 1:
Please contact us through the website with your request to either set up an appointment in the office or with the doctor through Skype. We ask you to send recent photographs of your eyelids and surrounding face using the below example. The photos should include: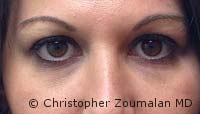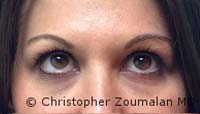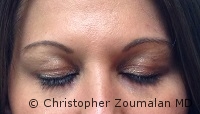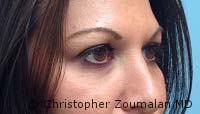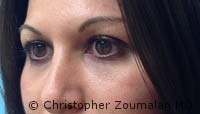 All photos should be taken using a solid background (white or blue is preferred). Please note that all photos you send are confidential and will only be placed within your medical record.
Step 2: Receive a consultation with Dr. Zoumalan
Once we receive your request with photos, our staff will contact you and determine whether you will most benefit from a phone conversation or video conference with the doctor. Dr. Zoumalan, will want to review your photos and discuss your history with you prior to your visit. Our surgery coordinator will contact you to set up a convenient time for you to speak with Dr. Zoumalan, over the phone or through Skype. You can also discuss financial options and the approximate cost of the procedure with the office staff as well.
Although the online meeting does not replace a comprehensive Oculoplastic examination in the office, you and the doctor can discuss general items that pertain to your condition, surgery process and approximate downtime, expectations from eyelid surgery, and to help plan your visit to meet with Dr. Zoumalan.
Step 3: Scheduling for surgery
Once you have spoken to the doctor and both of you feel comfortable with the surgical plan, our office will contact you to schedule your surgery with you. We will also schedule your pre-operative visit and post-operative visits as well. It is advised to arrive at minimum 48 hours before your surgery date to ensure all proper labs and paperwork are on file. We ask for you to stay in town at least six days in order to make sure you have healed well before your departure. There may be further post-operative visits required at a later date, which Dr. Zoumalan and the staff will inform you of depending on your procedure.
The staff will also provide you a pre-operation informational packet. The packet includes information that you will provide your regular doctor for your preoperative exam which you will need to have completed 2-4 weeks before surgery. The packet also includes a checklist of what you should bring with you on your surgery day and what to expect recovery-wise after surgery.
Step 4: Post surgery care and what to expect.
We have some educational links below to help answer some questions you may have regarding your upcoming surgery:
Dr. Christopher Zoumalan is a board-certified oculoplastic surgeon in Beverly Hills, specializing in aesthetic and reconstructive oculoplastic surgery. Dr. Zoumalan is passionate about helping patients reach their ideal aesthetic and restore functionality with the leading cosmetic eyelid surgery, reconstructive eyelid surgery, and non-surgical cosmetic procedures. Dr. Zoumalan has been featured on several television shows and has traveled the world as a trusted oculoplastic specialist. Browse the video gallery below to learn more about oculoplastic procedures and treatments.