Quad Blepharoplasty
What is a Quad Blepharoplasty
Blepharoplasty is a popular surgical technique operated on the upper or lower eyelids to repair droopy eyelids, remove excess skin, extract extra fat and give you overall healthy and beautiful eyelids. A quad blepharoplasty combines the upper and lower eyelid surgery procedures to provide patients with a complete eyelid rejuvenation.
Eyelid aging, in the form of sagging and wrinkling, are usually the first evident signs of aging on your face. Both the upper and lower eyelids consistently experience excess fat and skin accrual as you age, all the while they are steadily losing volume. The persistent loss of volume and gain of excess skin and fat among patients inevitably results in a more tired and less youthful appearance. If you are displeased with your upper and lower eyelids and the way they age you, then surely a quad blepharoplasty procedure will be an ideal option for you.
One of the most common reasons patients visit us is for an upper and lower eyelid blepharoplasty surgery consultation. Our goal is to perform a quad blepharoplasty procedure that refreshes your eyelid appearance and provides you with a natural result while yielding minimal downtime and discomfort. After performing thousands of eyelid surgeries and acquiring years of training, Dr. Zoumalan developed a technique he likes to call the Natural Looking Blepharoplasty™ procedure. Employing the Natural Looking Blepharoplasty ™ procedure Dr. Zoumalan aims to accord you the results you desire while still ensuring the preservation of your natural appearance. Upper and lower eyelid blepharoplasty surgery (quad blepharoplasty) is an individualized procedure that takes into consideration your specific needs and concerns. Dr. Zoumalan likes to plan a customized procedure that addresses the eyes as a whole to establish a fully rejuvenated look that's natural.

Beautiful MALE UPPER EYELID BLEPHAROPLASTY to improve excess upper lid skin. The excess skin was removed to help rejuvenate his eyes while preserving a natural look. Given the slight brow descent, we discussed a possible direct lateral brow lift in addition to the upper lid blepharoplasty. We both agreed that given his desires and his physical exam, an upper eyelid skin removal procedure through a blepharoplasty approach would help give him the results he was looking for, and it did!

Beautiful before and after of our patient after undergoing UPPER AND LOWER BLEPHAROPLASTY with FAT REPOSITIONING TO LOWER LIDS. Excessive upper lid skin was removed through a conservative upper lid skin removal blepharoplasty. Her main issues were the under eye fat pockets, so I was able to successfully improve her lower eyelids through a non-visible incision approach (transconjunctival) and use adequate repositioning to also address her under eye hollowing at the same time!
Upper Eyelid Blepharoplasty
An upper lid blepharoplasty, often referred to as an eyelift, is performed to remove the excess skin and fat in your upper eyelids. As you age, excess skin and fatty tissue compiles in the upper eyelids. The excess skin and fat depository results in a mellowing and aged look, which ultimately leaves you looking worn and tired. In addition to the aged look produced, excess skin and fat can hinder your vision as well. Sometimes the excess skin can leave your eyelids feeling heavy, the result of which in some cases leads to your peripheral vision being impeded or even completely blocked.
An upper lid blepharoplasty can restore your refreshed and youthful appearance, as well as recover your peripheral vision allowing you to see the world in a whole new light. The technique used during our Natural Looking Blepharoplasty ™ procedure leaves Dr. Zoumalan's patients with the least amount of evidence of surgery and ensures the shortest downtime possible. During the upper eyelid blepharoplasty procedure, a small incision is made along the natural crease of the eyelid so that the patient will only be left with a small scar that heals within that crease. Our trained doctor also makes use of the latest advanced techniques to address the removal of excess skin, as well as other deeper structures, such as fat and muscle. By utilizing state-of-the-art advanced techniques Dr. Zoumalan gives each and every patient the most natural looking upper eyelid blepharoplasty results as possible.
Lower Eyelid Blepharoplasty
As you age, the lower lid fat pockets that exist below your lower eyelids can become more prominent, and your skin can become thinner which brings about more visible wrinkles and signs of aging. The lower lid fat pockets ofttimes bulge out and have the appearance of dark circles. Some people refer to the dark circles as "bags" which commonly is misconstrued with being tired or having experienced a lack of sleep. A lower lid blepharoplasty, also known as lower eyelid cosmetic surgery, corrects the protruding fat and aids in improving loose and sagging skin. The goal of a lower eyelid blepharoplasty is to generate a smoother contour, reduce the prominence of your fat pockets and restore your youthful and vibrant appearance. Dependent on your desires and the best course of action determined by Dr. Zoumalan, excess fat can either be removed or repositioned. If repositioned, the excess fat will be transferred right below where the tissue has fallen beneath the lower eyelid to reduce dark shadows that are cast on the eye.
Dr. Zoumalan employs minimally invasive incisions to remove fat pockets in the lower eyelid granting patients the least evident scars of surgery possible while decreasing recovery and downtime. The incision is made on the back side of the lower eyelid so that the incision is not visible to you or others. Fat is often repositioned to help improve the hollowing (volume loss) that many experience in the eyelids as they age. The fat is repositioned just below the eyelid carefully and thoughtfully. Small amounts of excess skin can often be improved with a chemical peel, laser resurfacing, or microneedling. Sometimes extra skin has to be directly excised using a small incision just below your eyelashes. Dr. Zoumalan specializes in lower eyelid blepharoplasty and creates a customized state-of-the-art approach for each individual patient based on the needs and desires of his patient.
QUAD BLEPHAROPLASTY PROCEDURE
The quad blepharoplasty procedure combines the upper and lower eyelid blepharoplasty procedures. Linking the two procedures together affords patients the quad blepharoplasty benefits of the improvement of lower eyelid hollowing and fat transfer while correcting upper eyelid sag and the hindered peripheral vision that results. A quad blepharoplasty is a relatively brief procedure that is performed under IV sedation or general anesthesia. Your sutures will be removed 6-7 days after surgery, and the majority of swelling and bruising improves within two weeks.
Dr. Zoumalan's combination of minimally invasive surgical procedures and advanced healing techniques help to make your recovery process significantly smoother and swift. Your upper eyelid incisions will always be minimally visual and the incisions are made in the creases that appear in your upper lids to ensure the most natural results The incisions made in the lower lid blepharoplasty, or lower eyelid surgery, are not visible, allowing the patient to heal quickly with no change in the shape of your eyelid.
It is important to avoid excessive activity after your surgery for the first 10-14 days. Following a quad blepharoplasty, your eyes will look more open and alert, giving you a rejuvenated appearance. Results are typically seen within 2-3 weeks following surgery, however in some cases the results are evident much sooner. While it may take up to several weeks for swelling to completely improve, most inflammation improves by the second week after surgery. Typically, the lower eyelid may take longer to heal than the upper eyelid; regardless your results will continue to improve over the first few months. There is little pain associated with the procedure and most patients report tolerable soreness for the first few days following the quad blepharoplasty procedure; the soreness can be relieved with icing and Tylenol.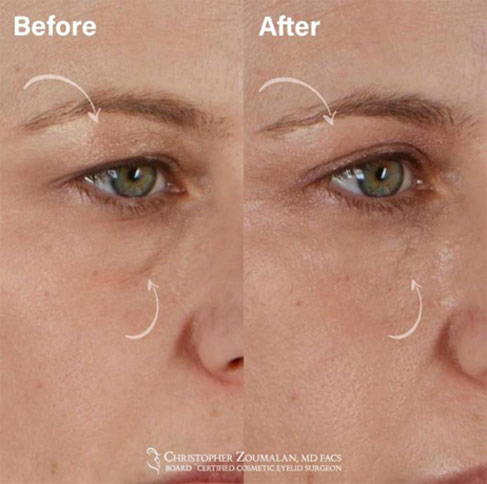 Natural-looking blepharoplasty results seen here in a beautiful female that desired to have a slight improvement in her excess upper lid skin and her under eye fat pockets. A conservative UPPER AND LOWER EYELID BLEPHAROPLASTY, lower eyelid FAT REPOSITIONING to help improve the under eye hollow (see bottom arrow), along with a C02 laser to her lower eyelids helped rejuvenate her eyes. After photos taken a few months post surgery.
THINKING ABOUT HAVING MULTIPLE PROCEDURES WITH YOUR QUAD BLEPHAROPLASTY?
Fat Repositioning
A loss of fat can also develop below the eyes, which can occur at the same time as prominent fat pockets. Some of the excess fat can be repositioned to fill in the hollows underneath the eyes at the same time as a lower eyelid blepharoplasty. This repositioning of fat to fill the hollowing beneath the eyes is known as fat repositioning. The lower lid blepharoplasty surgery will reduce the visible fat pockets that you have. But if you also have hollowing along your lower lids, midface and cheek area, then volume may also need to be restored. If your hollowing is minimal, some of your excess fat can be repositioned to improve the hollowing. In cases of moderate volume loss, you may need to have fat grafting as well at the same time of your blepharoplasty surgery or injectable fillers which are done at a later date in the office.
Ptosis
If you have low set eyelids or droopy eyelids, you may require a ptosis surgery to improve the drooping and sagging of the eyelids. Ptosis surgery is designed to lift the eyelids to a more natural and rested position. As a common additional minor procedure that Dr. Zoumalan performs routinely, ptosis surgery can be performed at the same time as your blepharoplasty. Dr Christopher Zoumalan utilizes ptosis surgery to help restore your eyelids to a refreshed, natural and rested appearance. There are no additional incisions made for a ptosis repair, as the existing blepharoplasty incision is used to help tighten and fix the droopy eyelid muscle.

Transformation Tuesday with this handsome gentleman that wanted his eyes refreshed. He had excess UPPER LID SKIN and UNDER EYE BAGS, and he underwent an UPPER AND LOWER EYELID SURGERY. Lower eyelid fat was REPOSITIONED to improve his under eye hollowing at the same time. Given the amount of fat that was repositioned and adequate lower lid volume was preserved, there was no need for lower eyelid skin removal, hence persevering his natural shape to his eye and minimizing visible incisions. Photos taken 8 months after surgery. I agree we could have taken better preop photos in similar lighting, but you can still see the difference and appreciate the improvement in his eyes, all the while still looking NATURAL AND REJUVENATED while preserving his HANDSOME AND MASCULINE look.
Facelift
It is very common for patients to wish to have a full facial rejuvenation procedure including a blepharoplasty and a facelift surgery in order to achieve total facial rejuvenation. In combination with eyelid surgery, a facelift is a powerful tool that can restore the natural youthful contours of the face and reduce signs of aging, including wrinkling and sagging. We routinely perform combination facial plastic and oculoplastic surgeries by well-recognized experts in the fields of facelifts and eyelid surgeries to help achieve your desires in facial rejuvenation. We can offer you the opportunity to meet with Dr. Christopher Zoumalan"s colleague and brother, Dr. Richard Zoumalan, who is a board-certified facial plastic surgeon. Dr. Richard Zoumalan specializes in the deep plane facelift procedure, along with other procedures such as a rhinoplasty. A facelift is a great means for reducing the facial signs of aging and affording you the youthful face you desire.
Brow Lift
A brow lift can surgically correct sagging skin, hooding of the upper eyelids and forehead wrinkles. A brow lift can be performed at the same as an upper eyelid or lower eyelid blepharoplasty. Dr. Zoumalan performs various types of naturally appearing brow lifts and each case is customized specifically to each customer. By customizing our approach Dr. Zoumalan ensures that the best method to achieve your desired face is utilized. Performing a quad blepharoplasty or an upper and lower blepharoplasty, in combination with a brow lift can improve the appearance of a droop in your brows. Executing a brow lift in combination with a quad blepharoplasty can help patients achieve more of a natural looking result, rather than just undergoing a quad blepharoplasty alone. When a brow lift is done at the same time and in conjunction with a blepharoplasty, it enables the ability to remove less upper eyelid skin since the brow is being repositioned higher and allows for a more youthful looking shape to your eyebrows. Being able to perform over four types of brow lift procedures allows Dr. Zoumalan to determine which brow lift procedure will be most beneficial for you. Based on your examination findings, and personal preferences Dr. Zoumalan will be able to recommend which procedure will give you maximum results.
Tear Trough Hollows vs Bags: What's the difference?
Loss of volume, also known as hollowing, underneath the eye is commonly seen in many people as they age. Tear trough hollow refers to hollowing along the eyelid closer to the nose. However, hollowing doesn"t just take place on the part of the eyelid close to the nose. In fact, under eyelid hollowing can occur along the entirety of the lower eyelid. Restoring the lost volume with fillers in the office can provide an excellent improvement in hollowing along the lower eyelid. But when someone has lower eyelid fat bags, that"s not hollowing but rather prominent fat which occurs above the area of hollowing. Both hollowing and prominent fat can co-exist at the same time, and if that"s the case, a lower eyelid blepharoplasty can help address both issues by removing some excess fat while also repositioning some fat to improve the hollowing.

Dr. Zoumalan routinely performs both lower eyelid and upper eyelid surgery at the same time, which is referred to as quad blepharoplasty. Quad blepharoplasty benefits patients as it reduces the blepharoplasty recovery time to have both procedures performed at once versus having two separate procedures and thus two separate recovery times. Patients who often have upper lid aging signs may also have lower lid aging signs which include prominent lower lid fat pockets (lower lid eye bags), volume loss and hollowing and even excess lower lid skin. Dr. Zoumalan employs the latest advanced techniques to help allow you to look as natural looking as possible while having a result that leaves you looking refreshed and youthful again. Schedule your consultation with Dr. Zoumalan in Los Angeles to learn more about quad 
blepharoplasty benefits
.


Natural Results with Minimal Scarring
Check out Our Amazing Patient Results

Dr. Christopher Zoumalan is a board-certified Oculoplastic surgeon that specializes in minimally invasive cosmetic eyelid surgery. The quad blepharoplasty procedure is performed with the utmost precision and care to ensure minimal scarring. Dr. Zoumalan is dedicated to helping patients achieve their desired aesthetic without the worry of scars. Dr. Zoumalan and a team of scientists have developed and perfected, Skinuva Scar Therapy, which works to kickstart the healing process and effectively reduce the appearance of scars. The Skinuva Scar Therapy is composed of an innovative silicone cream matrix that incorporates vitamin C, growth factors and natural ingredients to improve the appearance of scars.
QUAD BLEPHAROPLASTY RECOVERY
IMMEDIATELY AFTER

Immediately following a quad blepharoplasty procedure and directly into your quad blepharoplasty recovery patients will usually start to experience some swelling and bruising. Icing and Tylenol can significantly improve the swelling and soreness associated with the procedure. Additionally, it is normal to experience some dry eye sensation for approximately the first week following the surgery.

1 WEEK

One week into your quad blepharoplasty recovery your stitches, if you have any, will be removed by Dr. Zoumalan. You will be able to begin reading, watching television and performing small activities around the house for longer periods of time. Additionally, one week after your procedure you should begin to see your bruising and swelling subside.

2 TO 3 WEEKS

Several weeks into your quad blepharoplasty recovery most of your swelling and bruising should all be subsided. At this point you may start putting on makeup again. Dependent on Dr. Zoumalan's orders, you likely can begin wearing contact lenses again.

1 MONTH TO 6 WEEKS

Over a month into your quad blepharoplasty recover almost all of your swelling should have subsided. By this time, you should start seeing the results of your procedure.
Dr. Christopher Zoumalan is a board-certified oculoplastic surgeon in Beverly Hills, specializing in aesthetic and reconstructive oculoplastic surgery. Dr. Zoumalan is passionate about helping patients reach their ideal aesthetic and restore functionality with the leading cosmetic eyelid surgery, reconstructive eyelid surgery, and non-surgical cosmetic procedures. Dr. Zoumalan has been featured on several television shows and has traveled the world as a trusted oculoplastic specialist. Browse the video gallery below to learn more about oculoplastic procedures and treatments.